Obtaining Online Remote Help from Reliance PC
(
download the old server
or
download the new server
)
Reliance PC offers online remote help via remote operation of your computer using your high-speed Internet connection. By downloading and starting a small one-click remote communcation server program, your computer can be remotely controlled by an expert from Reliance PC's offices, just as if that expert were sitting in front of your computer typing on your keyboard and operating your mouse. A copy of your computer's monitor appears in a window on a computer at Reliance PC, and the keyboard and mouse on the Reliance computer acts as if they were your keyboard and mouse. You'll also be able to watch the changes on your monitor as they are being made from the Reliance computer, as well as operate your own computer if instructed to by the Reliance expert.
The server program you need can be downloaded from this page, placed on your desktop, and executed after you contact Reliance PC to make sure an expert is standing by to solve your problem. After your problem is solved, you can delete the server program from your desktop. The server program does not install anything on your computer, nor does it alter your computer's registry file. No changes need to be made to your router or networking configuration. The server works on Windows 95, 98, ME, 2000, 2003, XP, and Vista.
Establishing A Remote Session
First,
download the old server
or
download the new server
as instructed and click "Save":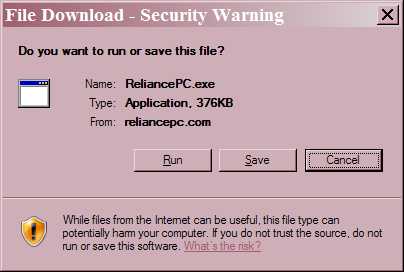 Now save the file to your Desktop as follows: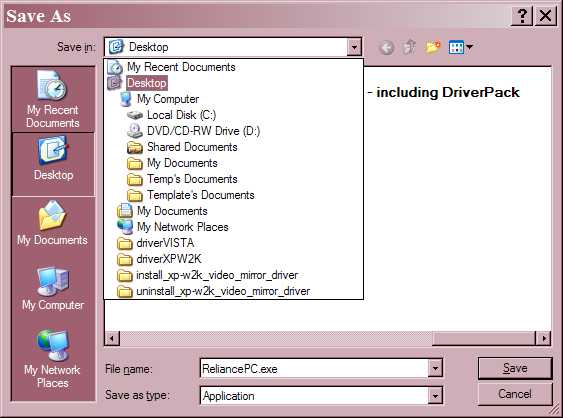 After clicking "Save", you'll now see an Icon on your desktop that looks something like:

After contacting Reliance PC via telephone (303-774-1526) to make sure a remote expert is available, double-click the desktop icon and you'll see: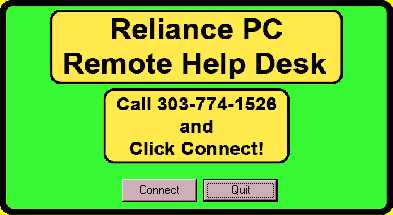 Click "Connect", and the server window will minimize to the notification area of the taskbar and you'll see the server status window as follows:

A Reliance PC expert should now be able to operate your computer remotely. You'll be able to watch what the expert is doing, as well as operate your own computer during this time if instructed to by the Reliance expert.
One thing to to note is that a system may be too damaged or overloaded for the server to run effectively. In such cases, installing and operating the server in Safe Mode may help.
Basic instructions for entering Safe Mode on an XP system can be seen
here
. Generally, you restart your system and soon as the current system shuts down, you start pressing the F8 key repeatedly to interrupt normal startup. Once you see the Advanced Options Menu, select "Safe Mode with Networking" and press the "Enter" key. On the next menu, press the "Enter" key again. The system will now startup in Safe Mode, which in some cases may take several minutes. Once you see the logon screen, it's usually best to logon as Administrator. Sometimes this logon can take several minutes too. Finally, note that working in Safe Mode can be somewhat of a challenge as the screen resolution will be 640x480, making all the graphics too large, and thereby limiting the amount of visual information on the display.